Buffalo Exchange: Your One-Stop Shop For Sustainable Fashion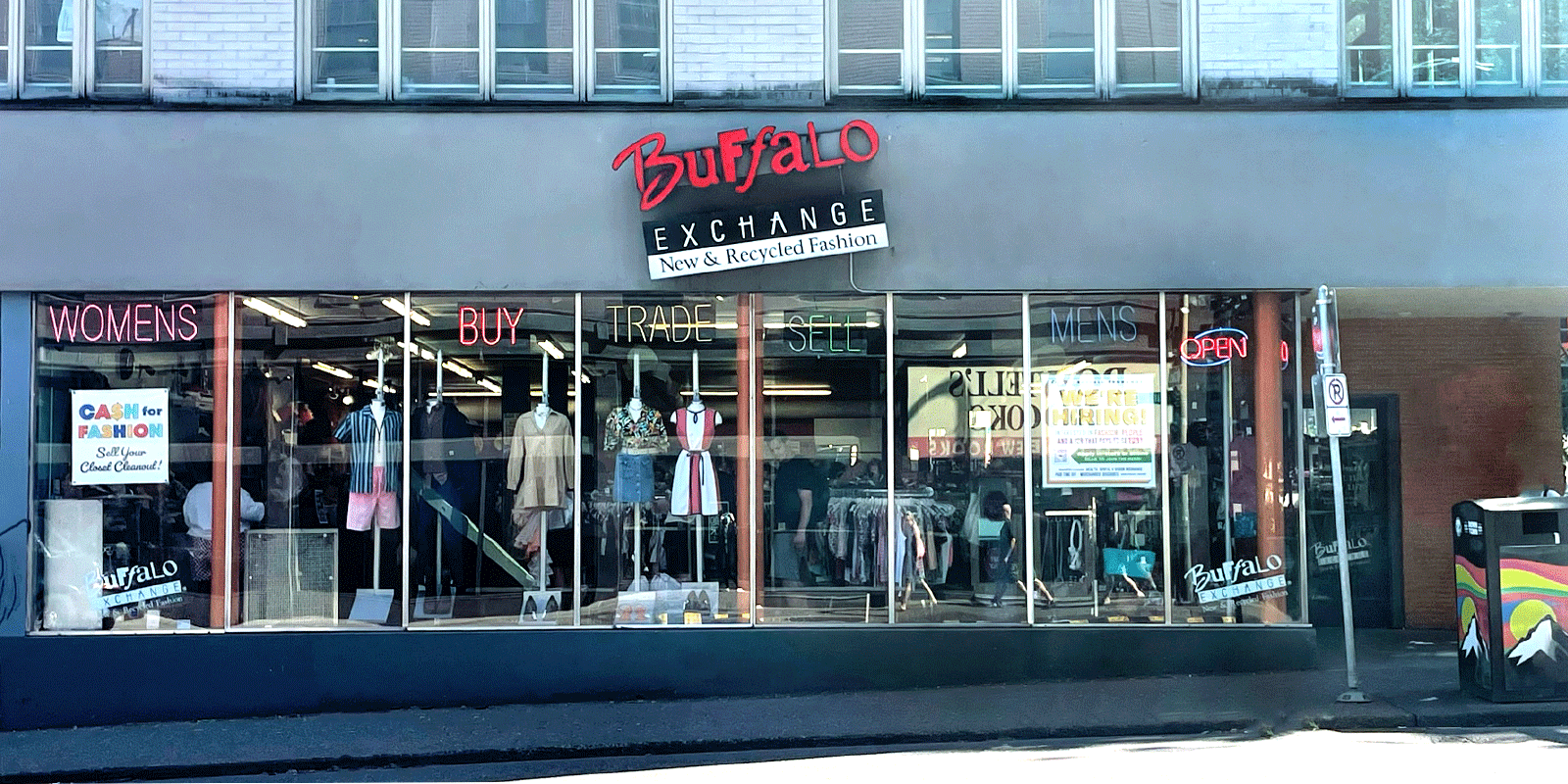 Looking for a one-stop shop that offers sustainable fashion? Look no further than Buffalo Exchange! This unique chain of thrift stores has been providing eco-friendly and affordable clothing options to fashion-forward individuals since 1974. With over 50 locations across the United States, it's easy to find your nearest Buffalo Exchange store and start shopping sustainably today! But what makes this retailer so special? In this blog post, we'll dive into the world of Buffalo Exchange and explore why they're a top destination for anyone looking to make their wardrobe more environmentally friendly.
Buffalo Exchange: What is Buffalo Exchange?
Buffalo Exchange is a chain of thrift stores that buy, sell, and trade clothing. The company was founded in Tucson, Arizona by Kerstin Block and her husband Spencer in 1974. Since then, Buffalo Exchange has grown to over 50 locations across the United States.
Unlike traditional retail stores, Buffalo Exchange offers customers a unique shopping experience where they can find one-of-a-kind pieces at affordable prices. The store's inventory consists of both vintage and modern clothing items with a focus on sustainability.
The concept behind Buffalo Exchange is simple: customers bring their gently used clothing into the store for cash or trade credit, which they can use to purchase new-to-them items from other sellers' offerings. This process encourages recycling clothes instead of throwing them away while also providing an opportunity for individuals to refresh their wardrobes without breaking the bank.
At each location, you'll find knowledgeable staff members who are passionate about fashion and sustainability. They're happy to offer styling tips or help you navigate through thousands of garments hanging on racks throughout the store.
Buffalo Exchange provides an eco-friendly way to shop while supporting local communities through its commitment to buying from individual sellers rather than corporate suppliers.
Sustainable Fashion at Buffalo Exchange: Why it Matters
Sustainability has become a crucial factor in the fashion industry, and Buffalo Exchange is taking its role in this movement very seriously. The fast fashion industry is one of the most polluting industries globally, generating tons of waste every year. Fast fashion items are cheaply made and designed to be worn only a handful of times before being thrown away.
At Buffalo Exchange, sustainability matters because they believe that clothing should be made to last longer than just a few years. Their team makes sure that all their products are curated sustainably so that customers can find quality secondhand pieces without hurting the planet.
By shopping at Buffalo Exchange, you're contributing to reducing textile waste since clothes don't end up in landfills. You'll also help reduce carbon emissions since fewer resources will have been used to produce new garments from scratch.
Moreover, buying pre-loved clothing at Buffalo Exchange encourages conscious consumerism by promoting recycling and reusing materials instead of supporting mass-produced goods with harmful production methods. This shift towards sustainable practices helps protect our environment while still allowing us to express ourselves through style.
So choose environmentally-friendly options like purchasing secondhand clothes from retailers like Buffalo Exchange!
How Buffalo Exchange Sustainably Makes Fashion
Buffalo Exchange has revolutionized the fashion industry by adopting sustainable practices in its production processes. They have a unique way of making fashion more sustainable and eco-friendly.
One of the ways Buffalo Exchange makes fashion sustainably is through clothing recycling. Instead of throwing away used clothes, they recycle them to create new pieces that are trendy, stylish, and affordable. This reduces textile waste which is one of the biggest environmental problems facing our planet today.
Buffalo Exchange also sources fabrics from thrift stores to reduce fabric waste and ensure that no materials go unused. They take old clothes from people who no longer need them, sort them out and use whatever can be salvaged for new designs.
Another way they sustainably make fashion is through upcycling. By repurposing old or damaged items into something new and fashionable, Buffalo Exchange promotes sustainability while creating unique pieces that cannot be found anywhere else.
Buffalo Exchange ensures that all its products are made ethically without exploiting workers or causing damage to the environment. Their focus on ethical production practices ensures that customers can shop with a clear conscience knowing they are supporting an environmentally conscious brand committed to sustainability.
It's evident that Buffalo Exchange leads by example when it comes to promoting sustainable fashion practices.
The Coolest Stuff at Buffalo Exchange
If you're looking for unique and cool fashion finds, Buffalo Exchange is your one-stop shop. The store is known for its eclectic mix of vintage, designer, and sustainable clothing pieces that cater to different styles.
One of the coolest things about shopping at Buffalo Exchange is their selection of statement accessories. From bold jewelry pieces to funky hats and sunglasses, there's something for everyone who wants to add a little edge or color to their outfit.
If you're into retro fashion, then you'll love the store's collection of vintage denim jackets, flannel shirts, and graphic tees. These timeless pieces never go out of style and can be easily paired with modern items to create a personalized look.
Buffalo Exchange also has a wide range of designer brands available at affordable prices. You can score high-end labels such as Gucci or Chanel for a fraction of the price compared to buying them brand new from luxury stores.
For those who are environmentally conscious but still want stylish clothing options, Buffalo Exchange offers sustainable fashion choices like upcycled denim or repurposed dresses made from recycled materials. These options allow shoppers to reduce waste while still looking fashionable.
In summary, when it comes down to finding cool stuff in Buffalo Exchange – the sky's the limit! Whether you're after statement accessories or vintage threads reminiscent of past decades – this place has got everything covered!
Conclusion
Buffalo Exchange is not just a thrift store or a resale shop. It's a sustainable fashion haven with an impressive collection of unique and trendy clothing pieces that cater to every individual style. As we continue to strive towards sustainability in the fashion industry, Buffalo Exchange stands out as one of the brands leading the way.
Whether you're buying, selling, or trading at Buffalo Exchange, you're contributing to reducing waste and promoting sustainable fashion practices. So why not make your next shopping trip more meaningful by checking out your local Buffalo Exchange store? Who knows – you might score some amazing finds while also making an impact on our planet!